Explorer Antibody Array
Explorer Antibody Micorarray is a broad-scope antibody array with 656 highly specific and well-characterized antibodies from multiple signaling pathways. It is suitable for protein expression profiling and screening in human samples. Each package contains two identical array slides for analyzing two samples, such as a control sample and a treatment sample.
Explorer Antibody Micorarray
Explorer Antibody Array is a high-throughput ELISA based antibody microarray for qualitative/semi-quantitative protein expression profiling and screening. The array is designed for comparing normal samples to treated or diseased samples, and identifying candidate biomarkers.
Key Features
Qualitative/semi-quantitative protein expression profiling
Suitable samples: cell lysates; frozen or FFPE tissue lysates; serum; culture media
Glass based array with high specificity and low background
Antibodies are covalently attached to 3D polymer coated glass slides
Sensitive fluorescent detection
User's Guide
Product Details
Number of Antibodies:
656 antibodies
Number of Replicates:
2 replicates per antibody
Reactivity:
Human
Detailed Reactivity List
Detection Method:
Fluorescence
Compatible Scanners
Slide dimensions:
76 x 25 x 1 mm
Spot diameter:
260 – 280 um
Size:
2 array slides per package for analyzing two samples (control vs. treated)
Storage Condition:
4°C for 6 months
Recent Publications
Klimushina MV, Gumanova NG, Direct labeling of serum proteins by fluorescent dye for antibody microarray, Biochem Biophys Res Commun 2017; 486(3):824-826
Xu Q, Cai J, A Comparative Transcriptome and Proteome Analysis in Rat Models Reveals Effects of Aging and Diabetes on Expression of Neuronal Genes, Intl J of Geront 2016; 10(4):212-217
Ordering Information 
| | | | |
| --- | --- | --- | --- |
| Catalog No | Description | Size | Price |
| ASB600 | Explorer Antibody Array | 2 slides/pk | $840 |
Additional Reagent Needed:
The ELISA based antibody array platform involves four major steps: 1) Protein extraction with non-denaturing lysis buffer; 2) Biotinylation of protein samples; 3) Incubation of labeled samples with antibody array; and 4) Detection by dye conjugated  streptavidin.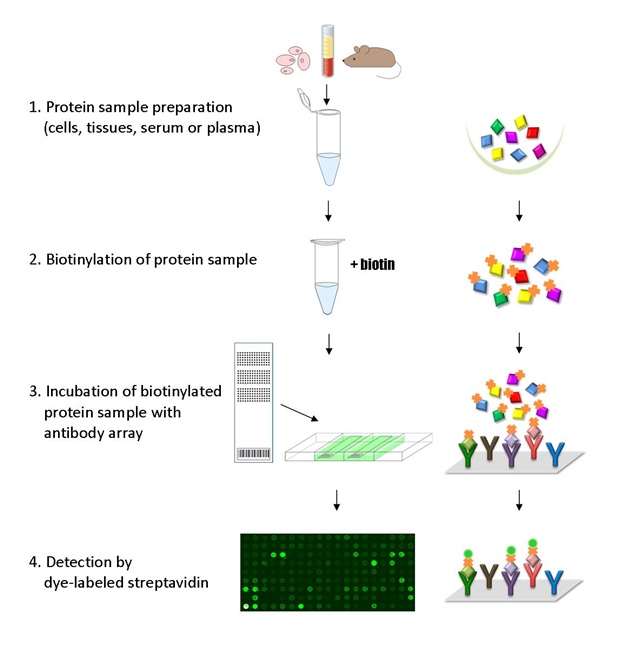 Questions? Visit our Frequently Asked Questions page.
Acinus, Actin Muscle Specific, Actin Pan, Actin skeletal muscle, Activin Receptor Type II, Adenovirus, Adenovirus Type 2 E1A, Adenovirus Type 5 E1A, ARF-6, AIF, Alkaline Phosphatase, Alpha Fetoprotein, Alpha Lactalbumin, alpha-1-antichymotrypsin, alpha-1-antitrypsin, Amphiregulin, Amylin Peptide, Amyloid A, Amyloid A4 Protein Precursor, Amyloid Beta, Androgen Receptor, Ang-1, Ang-2, APC, APC11, APC2, Apolipoprotein D, A-Raf, ARC, Ask1, ATM, Axonal Growth Cones, b Galactosidase, b-2-Microglobulin, B7-H2, BAG-1, Bak, Bax, B-Cell, B-cell Linker Protein, bcl-2a, bcl-6, bcl-10, bcl-X, bcl-XL, Bim, Biotin, Bonzo, Bovine Serum Albumin, BRCA2, BrdU, Bromodeoxyuridine, CA125, CA19-9, c-Abl, Cadherin Pan, Cadherin-E, Cadherin-P, Calcitonin, Calcium Pump ATPase, Caldesmon, Calmodulin, Calponin, Calretinin, Casein, Caspase 1, Caspase 2, Caspase 3, Caspase 5, Caspase 6, Caspase 7, Caspase 8, Caspase 9, Catenin alpha, Catenin beta, Catenin gamma, Cathepsin D, CCK-8, CD1, CD10, CD100/Leukocyte Semaphorin, CD1a, CD1b, CD2, CD3zeta, CD4, CD5, CD6, CD8, CD9, CD14, CD15, CD16, CD18, CD20, CD21, CD23, CD24, CD25, CD26, CD29, CD30, D32, CD35, CD36GPIIIb, CD40, CD42b, CD43, CD45, CD45RB, CD45RO, CD46, CD50, CD53, CD54, CD56-1, CD57, CD59, CD61, CD63, CD68, CD71, CD79a, CD79b, CD81, CD84, CD94, CD95, CD98, CD105, CD106, CD115, CD137, CD138, CD155/PVR, CD165, CD231, CDC14A Phosphatase, CDC25C, CDC34, CDC37, CDC47, CDC6, cdh1, Cdk1, Cdk2 , Cdk3 , Cdk4 , Cdk5 , Cdk7, Cdk8, CDw17, CDw60, CDw75, CDw78, CEA, c-erbB-2, c-erbB-4/HER-4, c-fos, Chk1, hCG-beta, Chromogranin A, CIDE-A, CIDE-B, CITED1, c-jun, Clathrin, claudin 11, Claudin 2, Claudin 3, Claudin 4, Claudin 5, CLAUDIN 7, Claudin-1, CNPase, Collagen II, Collagen IV, Collagen IX, Collagen VII, Connexin 43, COX2, CREB, CREB-Binding Protein, Cryptococcus neoformans, c-Src, Cullin-1, Cullin-2, Cullin-3, CXCR4, Cyclin B1, Cyclin C, Cyclin D1, Cyclin D3, Cyclin E, Cyclin E2, Cystic Fibrosis Transmembrane Regulator, Cytochrome c, Daxx, and more

    GAL File (To download, right click on the file name, then choose "Save target as")

    Material Safety Data Sheet (MSDS)
Bagnis, A, Izzotti, A, Aqueous humor oxidative stress proteomic levels in primary open angle glaucoma, Experimental Eye Research, 2012, 103:55–62
Burcham PC, Raso A, Airborne Acrolein Induces Keratin-8 (Ser-73) Hyperphosphorylation and Intermediate Filament Ubiquitination in Bronchiolar Lung Cell Monolayers, Toxicology May 7 2014, 319:44-52
Guo J, Wang Q, Visible red and infrared light alters gene expression in human marrow stromal fibroblast cells, Orthodontics & Craniofacial Research 2015; 18(Suppl.1): 50–61
Fidler IJ, Kim SJ, inventors, Board of Reagents, The University of Texas System, assignee. Brain-specific gene signature of tumor cells. United States patent application 14/775,715, filed March 13, 2014
Izzotti, A, Balansky R, Relationships between pulmonary microRNA and proteome profiles, systemic cytogenetic damage, and lung tumors in cigarette smoke-exposed mice treated with chemopreventive agents, Carcinogenesis 2013 Oct;34(10):2322-9. doi: 10.1093/carcin/bgt178
Klimushina MV, Gumanova NG, Direct labeling of serum proteins by fluorescent dye for antibody microarray, Biochem Biophys Res Commun 2017; 486(3):824-826
Lee MS, Kim JH, Prognostic Significance of CREB-Binding Protein and CD81 Expression in Primary High Grade Non-Muscle Invasive Bladder Cancer: Identification of Novel Biomarkers for Bladder Cancer Using Antibody Microarray, PLOS One, 2015 10(4):e0125405
Lee TG, Jeong EH, Fhit, a tumor suppressor protein, induces autophagy via 14-3-3τ in non-small cell lung cancer cells, Oncotarget, 2017;8(19):31923-31937
Moon, KM, Park, Y, The Effect of Secretory Factors of Adipose-Derived Stem Cells on Human Keratinocytes, International Journal of Molecular Sciences 2012, 13(1):1239-1257
Quistad SD, Stotland A, Evolution of TNF-induced Apoptosis Reveals 550 My of Functional Conservation, PNAS 2014 111(26) 9567-9572
Xu Q, Cai J, A Comparative Transcriptome and Proteome Analysis in Rat Models Reveals Effects of Aging and Diabetes on Expression of Neuronal Genes, Intl J of Geront 2016; 10(4):212-217
Yang T, Yao H, Effects of Lovastatin on MDA-MB-231 Breast Cancer Cells: An Antibody Microarray Analysis, Journal of Cancer, 2016; 7(2): 192-199
Yin SJ, Park D, An RNA interference based study for the role of ALDH1 in keratinocytes: DNA microarray, antibody–chip array and bioinformatics approaches, Process Biochemistry, 2014 49(10): 1612–1621
Zhou, J (2014). Discovery and application of colorectal cancer protein markers for disease stratification. Ph.D. Thesis. University of Sydney: Australia
Zupancic K, Blejec A, Identification of plasma biomarker candidates in glioblastoma using an antibody-array-based proteomic approach, Radiology and Oncology, 2014, 48(3), 257–266
Complete Antibody Array Assay Service
Complete Antibody Array Assay Service allows investigators to send research samples to our laboratory for analysis. There is no need to purchase the arrays and reagents and running the assays yourself. Simply select the array of your choice, and then send off the samples to our lab. This convenient hands-off approach offers quick turnaround and reliable results, saving you valuable time and resources. All assays will be performed by our highly trained scientists at our headquarter in Sunnyvale, California. Results are delivered by email in 1-3 weeks.
Cost: $1,550 per sample
Array Scanning & Image Analysis Service
Don't have access to a compatible microarray scanner? No problem! Once the assays are completed, send the finished array slides to our lab for scanning (free of charge) and analysis.