Our array printing team has extensive experience in microarray printing technology and system integration. We work with you closely in designing array formats that fit your needs. Our services include printing on our unique 3-D glass substrates. Printing conditions are optimized for each new sample printed to ensure adequate sample immobilization and to preserve the activities of each unique sample. Our rigorous QC procedures ensure printed arrays of superior spot morphology, consistency and uniformity.
Printing samples:

Cell lysates
Peptides
Antibodies
Key Features:

Quick turnaround
Excellent spot morphology and uniformity
High reproducibility and accuracy
Sample Prints: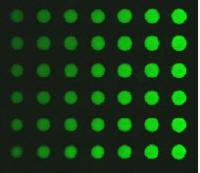 Anti-rabbit IgG (H+L) immobilized on Full Moon's Protein Slide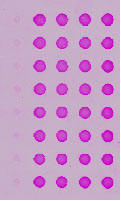 Transfected cell lysates immobilized on Protein Slide
Contact us
Please email us if you have questions about the service or need a quotation for custom arrays. When requesting a quote, please provide details about the the samples to be printed, including sample type, the number of samples to printed, and the number of slides needed.